OUR COMPANY : Newsroom
Welcome Bubba Watson
Jockey Being Family signs Bubba Watson as its Newest Ambassador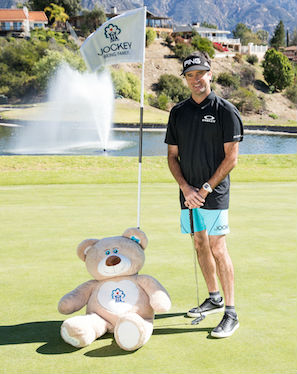 Kenosha, Wis. [February 19, 2018] – The Jockey Being Family Foundation, Ltd. (Jockey Being Family) today announced that it has signed professional golfer Bubba Watson as an ambassador to raise awareness for the foundation and the need for post-adoption services. Known for hitting long drives with his hot pink driver, Watson is a two-time Masters® champion and ten-time winner on the PGA Tour. Watson, and his wife, Angie, have adopted two children, Caleb and Dakota.
Jockey Being Family is Jockey International, Inc.'s corporate initiative, which provides resources and support to post-adoption organizations to help strengthen adoptive families once an adoption is finalized. To date, the foundation has helped strengthen more than 325,000 families by providing post-adoption resources and support. Jockey Being Family's mission is simple: It believes that every child deserves to grow up with a loving family in a forever home.
"I could not be more excited to join the team at Jockey Being Family to help raise awareness for adoption and post-adoption services," said Watson. "I know that I have a platform and responsibility to help others, and this is a cause near and dear to my heart. Together, we can, and will, impact thousands of families."
"Jockey Being Family is thrilled to partner with Bubba Watson to help strengthen adoptive families across the country," said Debra S. Waller, founder of Jockey Being Family. "Together, with Bubba and Angie's support, we can have an even greater impact in helping families better understand and have access to post-adoptions resources."
Watson and his family will help the foundation raise awareness and funds during key times to expand resources and support available to adoptive families, specifically during National Foster Care Month (May) and National Adoption Awareness Month (November).
As part of the relationship, Watson will make appearances on behalf of Jockey Being Family, highlighted by the annual Jockey Being Family® Gala and Golf in Lake Geneva, Wis. May 20-21, 2018.
-1876-
About Jockey:
Founded in 1876 Jockey International, Inc. is a privately held company with headquarters in Kenosha, Wis. Today, Jockey apparel products are sold in more than 145 countries around the world. Jockey is committed to quality, comfort, fashion and innovation. As Jockey grows, the simple commitment to serve our consumers' needs continues to be our company's hallmark. Need more Jockey in your life? Shop us at Jockey.com, call or text us at 1-800-JOCKEY-1 and follow us on Facebook, Twitter, Pinterest, Instagram and YouTube.
Press Contact:
Rogers & Cowan
Lauren Weissman | Amanda Mondre
212.878.5109 | 310.854.8129
[email protected] | [email protected]