OUR COMPANY : Newsroom
Show 'Em Hero: Zach Skow
Jockey® Spotlights New #ShowEm Hero: Zach Skow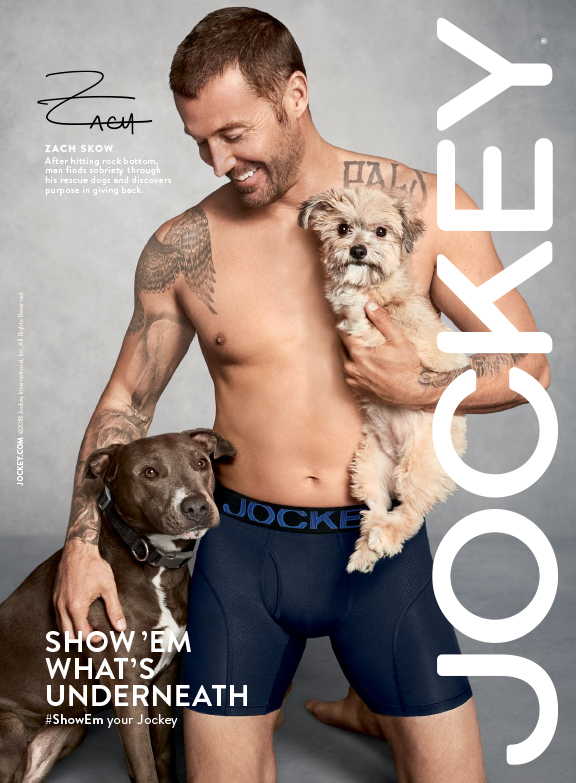 After hitting rock bottom, Skow finds sobriety through his rescue dogs and discovers purpose in giving back
Kenosha, Wis. [July 26, 2018] – Jockey International, Inc. (Jockey), a 142-year-old brand recognized around the world for its premium underwear and apparel, today announced the next chapter of its inspiring brand campaign "Show 'Em What's Underneath, Show 'Em Your Jockey." The latest hero to be featured is dog rescuer Zach Skow, who found purpose in giving shelter dogs a second chance at life after he battled liver disease and hit rock bottom.
After years of abusing alcohol and drugs, Zach was facing end-stage liver disease at the age of 28. While trying to overcome the lowest point in his life, the unconditional love he found in his dogs gave him the strength to work through his addiction and take his life back. His miraculous recovery inspired him to establish Marley's Mutts, a non-profit organization that rescues, rehabilitates, trains and re-homes dogs from high-kill centers, saving the lives of more than 5,000 dogs.
As part of Marley's Mutts, Zach created Miracle Mutts, a community outreach and education endeavor, to help empower both dogs and people to live happy, healthy and productive lives. The program helps nonverbal kids with autism, people recovering from substance addiction, veterans and incarcerated inmates. Zach also started Pawsitive Change, a progressive and intensive rehabilitation training program that matches dogs with inmates. The objective is to reduce inmate recidivism by providing them with a viable skill while saving dogs at the same time. To date, they've positively impacted over 120 dogs and more than 200 prison inmates.
"Zach has found an even bigger purpose through his extraordinary work saving thousands of dogs and transforming people's lives through the power of the human-canine bond," said Erica Rendall, vice president of marketing, Jockey. "Zach shows us that everyone deserves a second chance and that it's never too late to find your own purpose to make a positive impact in the world."
The #ShowEm campaign introduces Zach proudly wearing Jockey® product in a personal, intimate video and series of portraits illustrating what's underneath, both literally and figuratively. #ShowEm celebrates everyday heroes who embody the spirit and values of Jockey and the characteristics that make them unique, including purpose, faith, perseverance, courage, family, hope and resilience.
"The #ShowEm campaign has helped me feel comfortable with putting the real me out there," said Zach Skow. "Jockey has given me this amazing opportunity to show people it's ok to be vulnerable – in order to find acceptance from others, you have to start with yourself."
Conceived by marketing partner Pure Growth Consulting, the "Show 'Em What's Underneath, Show 'Em Your Jockey" campaign will launch with a week-long digital billboard takeover in Times Square along with digital video and social media presence.
To date, the Jockey® brand campaign has shared the powerful stories of: Chris Van Etten, a U.S. Marine veteran who shows perseverance always wins; Lisa Cusimano, a firefighter who defines courage as serving something greater than yourself; Michael Cottone, an adoptive father who exemplifies the gift of family; Michaela DePrince, a war orphan turned ballerina who demonstrates that with hope, anything is possible; Remi Adeleke, a former Navy SEAL and actor who shows people that with resilience, you can accomplish anything, and Victoria Arlen, a gold medalist and motivational speaker who shows the incredible power of keeping faith.
To learn more about the #ShowEm campaign and Jockey, follow @Jockey on social media and participate in the conversation with #ShowEm.
– 1876 –
About Jockey:
Founded in 1876 Jockey International, Inc. is a privately held company with headquarters in Kenosha, Wis. Today, Jockey® apparel products are sold in major department and specialty stores in more than 145 countries around the world. Jockey is committed to quality, comfort, fashion and innovation. As Jockey grows, the simple commitment to serve our consumers' needs continues to be our company's hallmark. Need more Jockey® products in your life? Shop us at Jockey.com, call or text us at 1-800-JOCKEY-1 and follow us on Facebook, Twitter, Pinterest, Instagram and YouTube.
Press Contact:
Jackie Crystal | Amy Pandya
Rogers & Cowan
O: 310-854-8157 | 310-967-3418
[email protected] | [email protected]