OUR COMPANY : Newsroom
Jockey to Support Boys & Girls Club of Kenosha After- School Program
Jockey and BGCK Partner to Launch New Volunteer Initiatives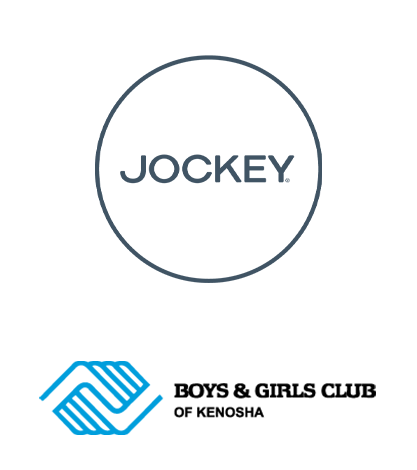 Kenosha, Wis. [April 15, 2021] – Jockey International Inc. (Jockey), a 145-year-old brand recognized around the world for its premium underwear and apparel, today announced a partnership with the Boys & Girls Club of Kenosha (BGCK/Club) by supporting the youth and teen center after-school education and enrichment programs. Jockey has been a longtime supporter of the BGCK and is further committing to the Club by making a $24,000 monetary donation and launching a new Jockey employee volunteer initiative.
While it costs families just $20 per year or 7 cents per day for their youth to attend the Club, it costs the BGCK about $450 per child to provide important after-school programming. The investment by Jockey will help offset this difference while giving families a peace of mind knowing that their child is in a safe place, fed a healthy meal, and receiving opportunities and access to resources they otherwise would not have.
As part of the new partnership, on a bi-weekly basis, Jockey employees will volunteer to help Club members on a new reading program. The program will be geared towards members ages 6-13 who may be below their grade's reading proficiency level. Volunteers will be given an agenda and paired up with a BGCK youth upon their arrival. Activities include reading games, comprehension activities and reading books at the member's reading level.
In addition to the new reading program, the youth and teen centers will be putting on monthly educational and fun events that are sponsored by Jockey. Jockey employees will have the opportunity to participate at each event. Examples of the events include a STEM fair, talent show, Cinco de Mayo Dinner, Juneteenth Day festival, Black History celebration dinner and more.
"We are delighted to partner with Jockey on educational and workforce development opportunities for our area youth," said BGCK CEO, Tara Panasewicz. "There's a great need to help our children read proficiently, and the investment made by Jockey and their employees will expand those efforts and play a role in helping to better our local community. We cannot thank them enough for their continued support of our mission."
"When I was given the opportunity to expand Jockey's community engagement efforts, I knew
that we'd want to support the BGCK's effort to make a difference in the lives of kids who need us the most in Kenosha," said Jake McGhee, chief philanthropy officer, Jockey. "I know how incredible the BGCK is from my time there and I'm excited for Jockey employees to roll up their sleeves, take action and be a part of it."
About Boys & Girls Club
The Boys & Girls Club of Kenosha is a youth guidance organization dedicated to promoting health, social, educational, vocational, cultural, character and leadership development. The Club helps youth improve their lives by building skills, values and self-esteem. When you support the Boys & Girls Club of Kenosha, you support the kids who need us the most and their great futures ahead. Visit www.BGCKenosha.org/donate to donate today.
About Jockey
Founded in 1876, Jockey International, Inc. is a privately held, family-owned company with global headquarters in Kenosha, Wis. Started by Rev. Samuel T. Cooper as a sock company to serve lumberjacks of the day, the company has expanded into one of the most well-known apparel brands around the world. Today, Jockey® products are sold in more than 140 countries. Jockey is committed to quality and innovation, and the passionate pursuit to satisfy the human need for comfort continues to be the company's hallmark. Visit Jockey.com to experience the quality. After all, There's Only One Jockey.™