OUR COMPANY : Newsroom
Show 'Em Unconquered
Jockey® unveils "Show 'Em Unconquered" campaign at Invictus games Toronto 2017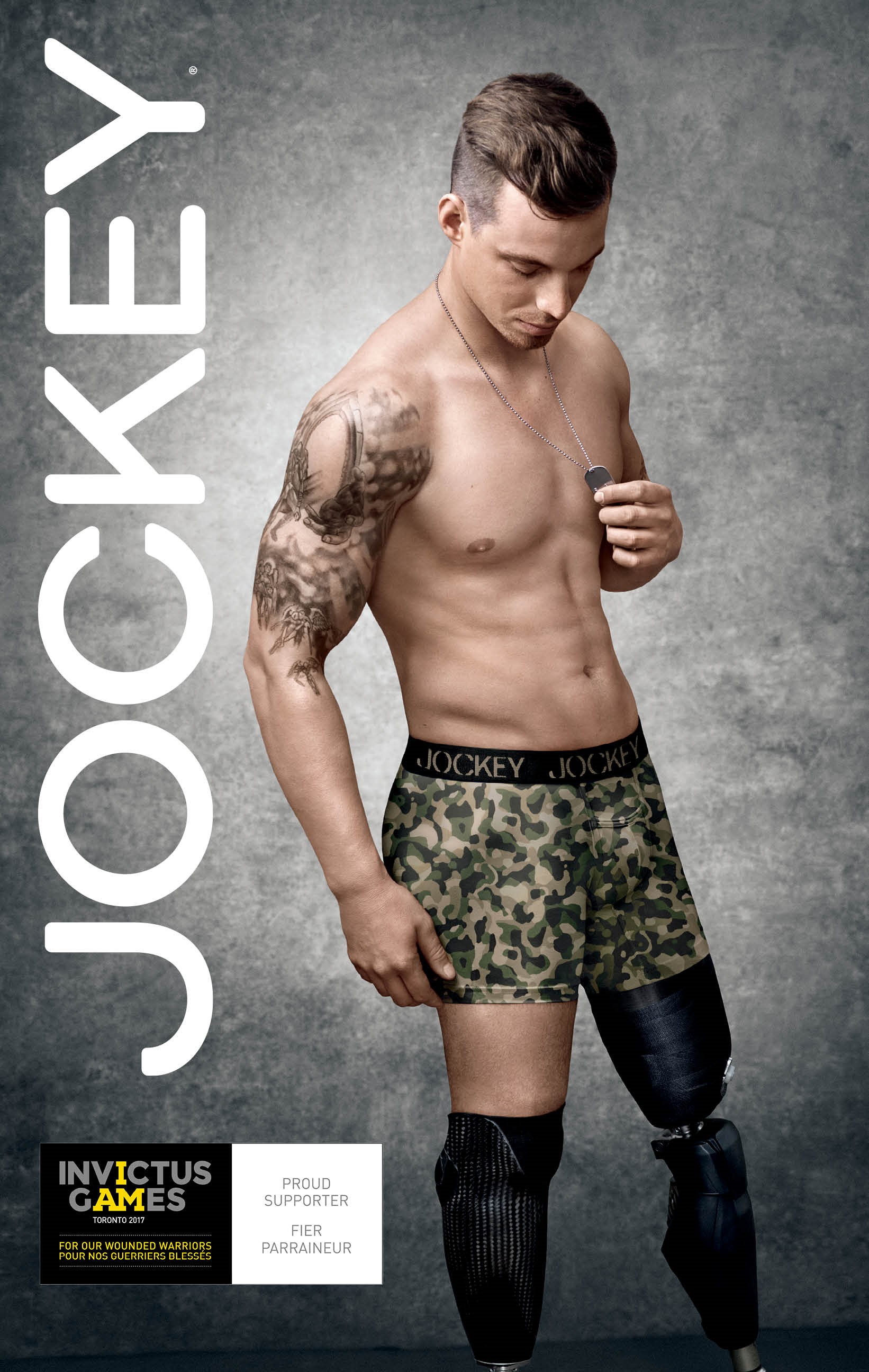 Leading apparel brand is a Proud Supporter of the 3rd annual Invictus Games
Inspiring everyday hero and wounded veteran, Chris Van Etten captures and shares stories of athletes from around the world
Kenosha, Wis. [September 22, 2017] – As the Invictus Games Toronto 2017 presented by Jaguar Land Rover kicks off, Jockey International, Inc. (Jockey), a 141-year-old brand recognized around the world for its premium underwear and apparel, announced "Show 'Em Unconquered," a Canadian extension to its powerful U.S. brand campaign "Show 'Em What's Underneath, Show 'Em Your Jockey." Jockey joins forces with everyday hero Chris Van Etten, a U.S. Marine veteran who shows perseverance always wins, to honor the ill, wounded and injured active duty and veteran service members competing at the Paralympic-style sporting event taking place in Toronto, Ontario, Canada from September 23-30, 2017.
As an ambassador, Van Etten will be on-site at various locations around the grounds of the Invictus Games interviewing competitors. The interviews will uncover and share the untold stories of the brave veterans whose awe-inspiring spirit of perseverance has given them the strength to compete and overcome physical and emotional challenges. As a wounded veteran himself, Van Etten knows firsthand how the power of competition and athleticism can be instrumental in the road to recovery. The inspiring content from #ShowEm Unconquered will be available on Jockey's social media channels. A new hero from around the globe will be featured daily.
"We're honored to support a sporting event that recognizes pro athletes and everyday heroes who embody strength, courage and hope," said Matthew Waller, senior manager of corporate communications and brand partnerships, Jockey. "The spirit of the Invictus Games aligns perfectly with Jockey's values as we celebrate the incredible journeys and unique stories of those participating in the Invictus Games, amplifying the message that life's obstacles can be overcome."
The son of two retired Air Force veterans, Van Etten always had a strong sense of service toward his country and enlisted in the U.S. Marine Corps shortly after graduating from high school. Later, he was deployed to Afghanistan where an improvised explosive device ("IED") detonated; taking the life of his best friend and causing him to lose both legs. Despite his tremendous losses, Van Etten continues to live life to the fullest, playing competitive wheelchair lacrosse, mono skiing and has recently been featured in Jockey's powerful everyday hero brand campaign "Show Em What's Underneath, Show Em Your Jockey."
-1876-
About Jockey:
Founded in 1876 Jockey International, Inc. is a privately held company with headquarters in Kenosha, Wis. Today, Jockey apparel products are sold in major department and specialty stores in more than 145 countries around the world. Jockey is committed to quality, comfort, fashion and innovation. As Jockey grows, the simple commitment to serve our consumers' needs continues to be our company's hallmark. Need more Jockey in your life? Shop us at Jockey.com, call or text us at 1-800-JOCKEY-1 and follow us on Facebook, Twitter, Pinterest, Instagram and YouTube.
Press Contact:
Jackie Crystal | Lauren Weissman
Rogers & Cowan
O: 310-854-8157 | 212-878-5109
[email protected] | [email protected]