OUR COMPANY : Newsroom
Show 'Em Hero: Victoria Arlen
Jockey® Unveils Extraordinary New #Show 'Em Hero: Victoria Arlen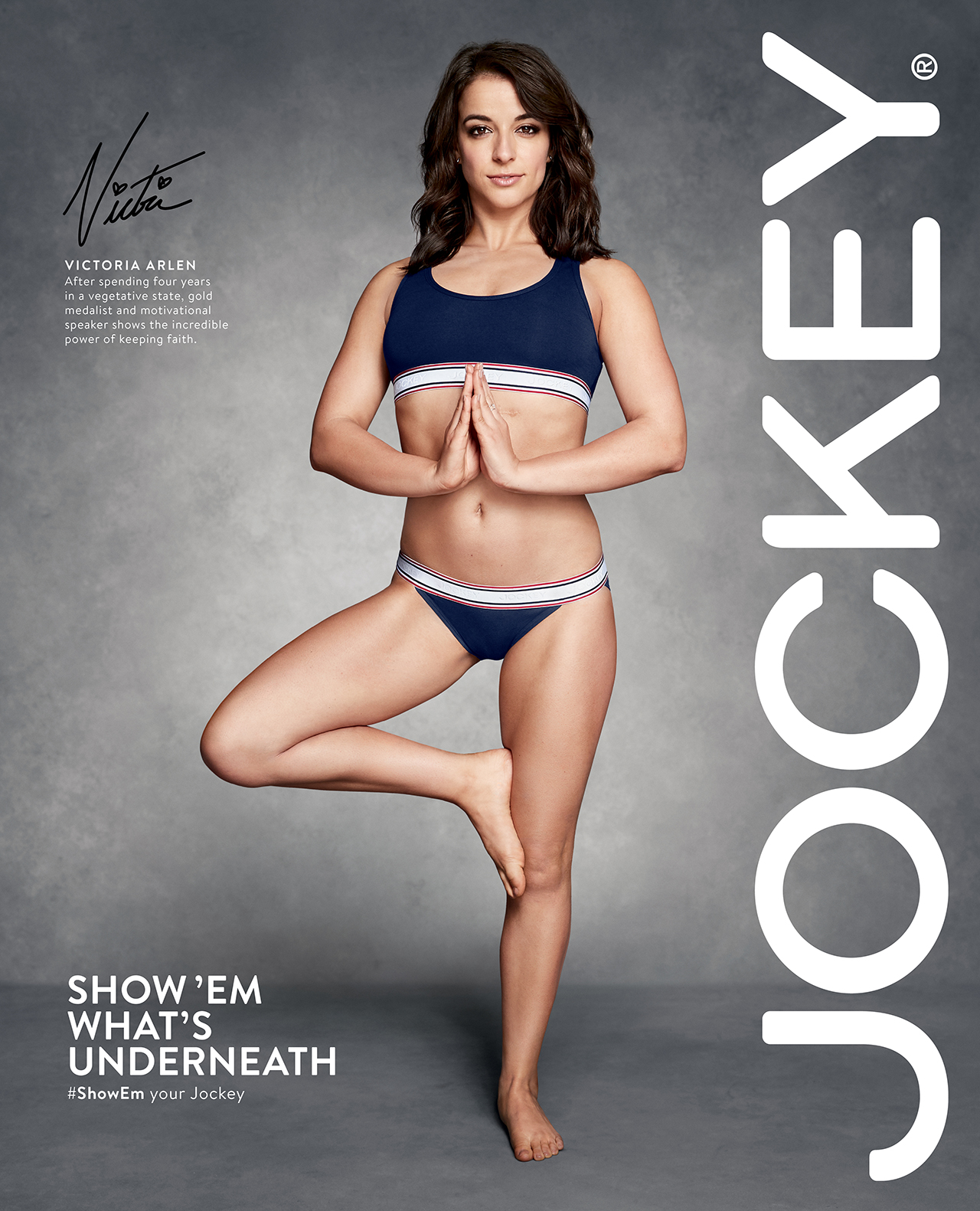 Show 'Em What's Underneath, Show 'Em Your Jockey campaign reveals Victoria's unimaginable story of faith
Paralympic gold medalist, former world record holder and motivational speaker defies the odds after spending four years in a vegetative state
Kenosha, Wis. [April 25, 2018] – Jockey International, Inc. (Jockey), a 142-year-old brand recognized around the world for its premium underwear and apparel, today announced the next chapter of its inspiring brand campaign "Show 'Em What's Underneath, Show 'Em Your Jockey." The newest hero to be featured is gold medalist and motivational speaker Victoria Arlen, who shows the incredible power of keeping faith after spending four years in a vegetative state.
As a child, Victoria Arlen suffered from an illness that left her completely paralyzed and unable to communicate for four years. Completely aware of what was going on, but unable to speak, eat, move or communicate, doctors believed there was little hope of survival. Not ready to give up, Victoria began the nearly impossible fight back to life, re-learning basic human functions with faith and the love of her family motivating her to keep going.
Victoria not only went on to recover but defied the odds by becoming an accomplished motivational speaker, actress, model, swimmer and one of the youngest on-air talents hired by ESPN. Her victories include winning three silvers and a gold medal for swimming at the London 2012 Paralympic Games and achieving world, American and Pan American Records. After spending nearly a decade paralyzed from the waist down, she learned to walk again and even competed on "Dancing with the Stars" fulfilling a childhood dream.
"Victoria's unwavering faith and commitment to overcome seemingly unsurmountable challenges, epitomizes everything that the #ShowEm campaign stands for," said Erica Rendall, vice president of marketing, Jockey. "We're proud to be able to share Victoria's story to inspire others to embrace what's within and never give up."
The #ShowEm campaign introduces Victoria proudly wearing Jockey® product in a personal, intimate video and series of portraits illustrating what's underneath, both literally and figuratively. #ShowEm celebrates everyday heroes who embody the spirit and values of Jockey and the characteristics that make them unique, including faith, perseverance, courage, family, hope and resilience.
"I'm honored to be a part of the #ShowEm campaign because it recognizes the importance of who we are at our core and what drives us to become who we want to be, no matter what obstacles we face," said Victoria Arlen. "Jockey has given me a platform to show people that the impossible can be possible if you keep fighting and believing."
Conceived by marketing partner Pure Growth Consulting, the "Show 'Em What's Underneath, Show 'Em Your Jockey" campaign will be supported primarily by digital and social media, and also with national print ads in Elle, Women's Health, and InStyle, among others.
To date, the Jockey® brand campaign has shared the powerful stories of: Chris Van Etten, a U.S. Marine veteran who shows perseverance always wins; Lisa Cusimano, a firefighter who defines courage as serving something greater than yourself; Michael Cottone, an adoptive father who exemplifies the gift of family; Michaela DePrince, a war orphan turned ballerina who demonstrates that with hope, anything is possible; and Remi Adeleke, a former Navy SEAL and actor who shows people that with resilience, you can accomplish anything.
To learn more about the #ShowEm campaign and Jockey, follow @Jockey on social media and participate in the conversation with #ShowEm.
– 1876 –
About Jockey:
Founded in 1876 Jockey International, Inc. is a privately held company with headquarters in Kenosha, Wis. Today, Jockey® apparel products are sold in major department and specialty stores in more than 145 countries around the world. Jockey is committed to quality, comfort, fashion and innovation. As Jockey grows, the simple commitment to serve our consumers' needs continues to be our company's hallmark. Need more Jockey® products in your life? Shop us at Jockey.com, call or text us at 1-800-JOCKEY-1 and follow us on Facebook, Twitter, Pinterest, Instagram and YouTube.
Press Contact:
Jackie Crystal / Amy Pandya
Rogers & Cowan
O: 310-854-8157 / 310-854-3418
[email protected] / [email protected]