OUR COMPANY : Newsroom
COUNTRY STRONG: JOCKEY ANNOUNCES LUKE AND CAROLINE BRYAN AS BRAND AMBASSADORS
The all-American couple's unconditional love, commitment to family and playful sense of humor make them a perfect "fit" for Jockey in new brand campaign, "There's Only One Jockey™"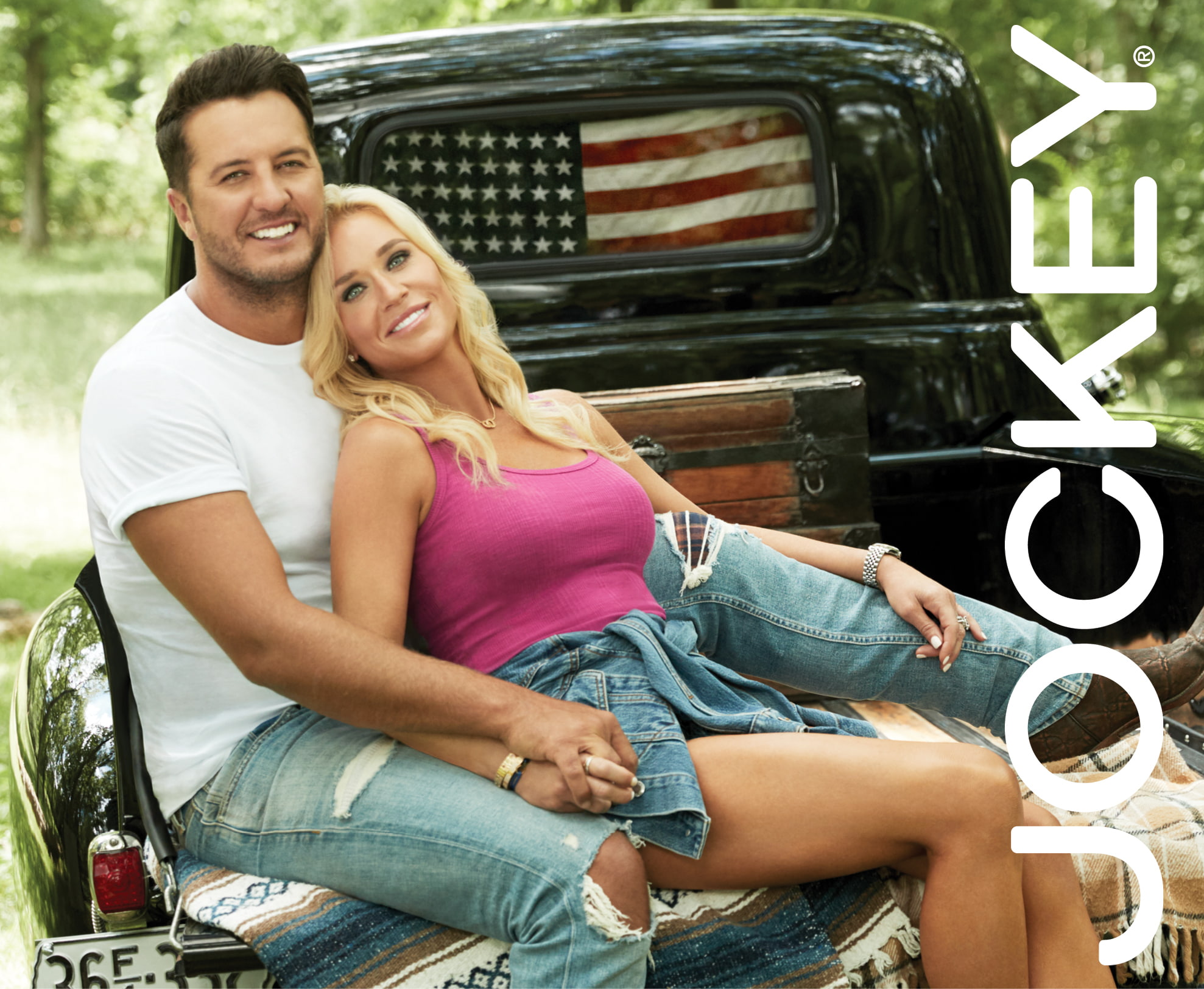 Kenosha, Wis. [August 21, 2020] – Jockey International, Inc. (Jockey), a 144-year-old brand recognized around the world for its premium underwear and apparel, today welcomed Luke and Caroline Bryan as the brand's latest ambassadors in its newest brand campaign, "There's Only One Jockey™."
Luke Bryan, the iconic country music star with 25 career No. 1 singles, and his better half, Caroline, are an all-American couple who share a love for country music, faith and family. With 13 years of marriage under their belt, they show that heartfelt commitment, strong family values and a dash, or two, of humor, sets a strong foundation for success.
Since 1876, Jockey has had a similar recipe for success. As a family owned company focused on caring for others, satisfying the human need for comfort and crafting the highest quality apparel, the brand's motto amongst consumers has been "There's Only One Jockey™."
"Luke and Caroline are a great fit for the Jockey brand as their focus on family, dedication to caring for others and playful sense of humor align perfectly with our brand values," said Chris Smith, senior vice president, DTC and chief brand officer, Jockey. "We're proud to be able to partner with the Bryans and highlight the impact this all-American couple has on families and a younger generation, and reinforce 'There's Only One Jockey.' It also doesn't hurt that Luke has an affinity for the classic white Jockey® T-shirt – an iconic staple in American culture."
Shot in Nashville, Tenn. on a beautiful, rustic estate befitting the brand's and Bryan's style, the campaign features Luke and Caroline in a wide range of picturesque, artistic shots in Jockey® apparel, from cozy pajamas and relaxing loungewear to comforting thermals and, of course, the iconic Jockey® Classic T-shirt.
"This partnership with Jockey, and why I'm so proud of it, it just feels like such a natural combination of our family and what our family is about," said Luke Bryan. "Jockey is such a strong family company and we're just excited to be partnered with such a successful company for so many years. The clothes Jockey makes, the comfort and quality, and how they stand behind it, is so important for us."
"What I love about Jockey, probably the best thing is their classic white T-shirt because girls can rock it, boys can, too," said Caroline Bryan. "I have some that I just tie on the side and throw on a hat and cute shoes, and you're good to go. It's easy."
The new campaign features a robust and targeted media plan, featuring a partnership with iHeart Media and the Bobby Bones radio show, a TV campaign highlighted by an Academy of Country Music Awards spot, and digital and social media presence.
In the featured TV spot, Caroline delivers Luke Jockey® apparel for his campaign shoot and, well, it's not what he expected.
The Bryans will also serve as ambassadors for the Jockey Being Family Foundation, Ltd. (JBF), which is Jockey International, Inc.'s corporate charitable initiative that provides resources and support to post-adoption organizations to help strengthen adoptive families once an adoption is finalized.
Debra S. Waller, chairman and CEO of Jockey, was adopted as an infant and started JBF in 2005. Through her leadership JBF has impacted and helped strengthen more than 350,000 families.
Conceived by Marketing partner NitroC's President & Chief Creative Officer, Ashlee Clarke, the campaign will be supported with a robust digital and social media presence, including opportunities for fans to win exclusive memorabilia.
To learn more about the partnership, fans can visit Jockey.com/LukeBryan.
– 1876 –
About Jockey:
Founded in 1876, Jockey International, Inc. is a privately held, family owned company with headquarters in Kenosha, Wis. Started by Rev. Samuel T. Cooper as a sock company to serve lumberjacks of the day, the company has expanded into one of the most well-known apparel brands around the world. Today, Jockey® products are sold in more than 140 countries. Jockey is committed to quality and innovation, and the passionate pursuit to satisfy the human need for comfort continues to be the company's hallmark. Visit Jockey.com to experience the quality. After all, There's Only One Jockey.™
Press Contact:
Matthew Waller
Jockey International, Inc.
O: 262-653-3141