OUR COMPANY : Newsroom
New! No Bunch Boxer™ Collection
Jockey® Revolutionizes Men's Underwear Again with the Launch of the No Bunch Boxer™ Collection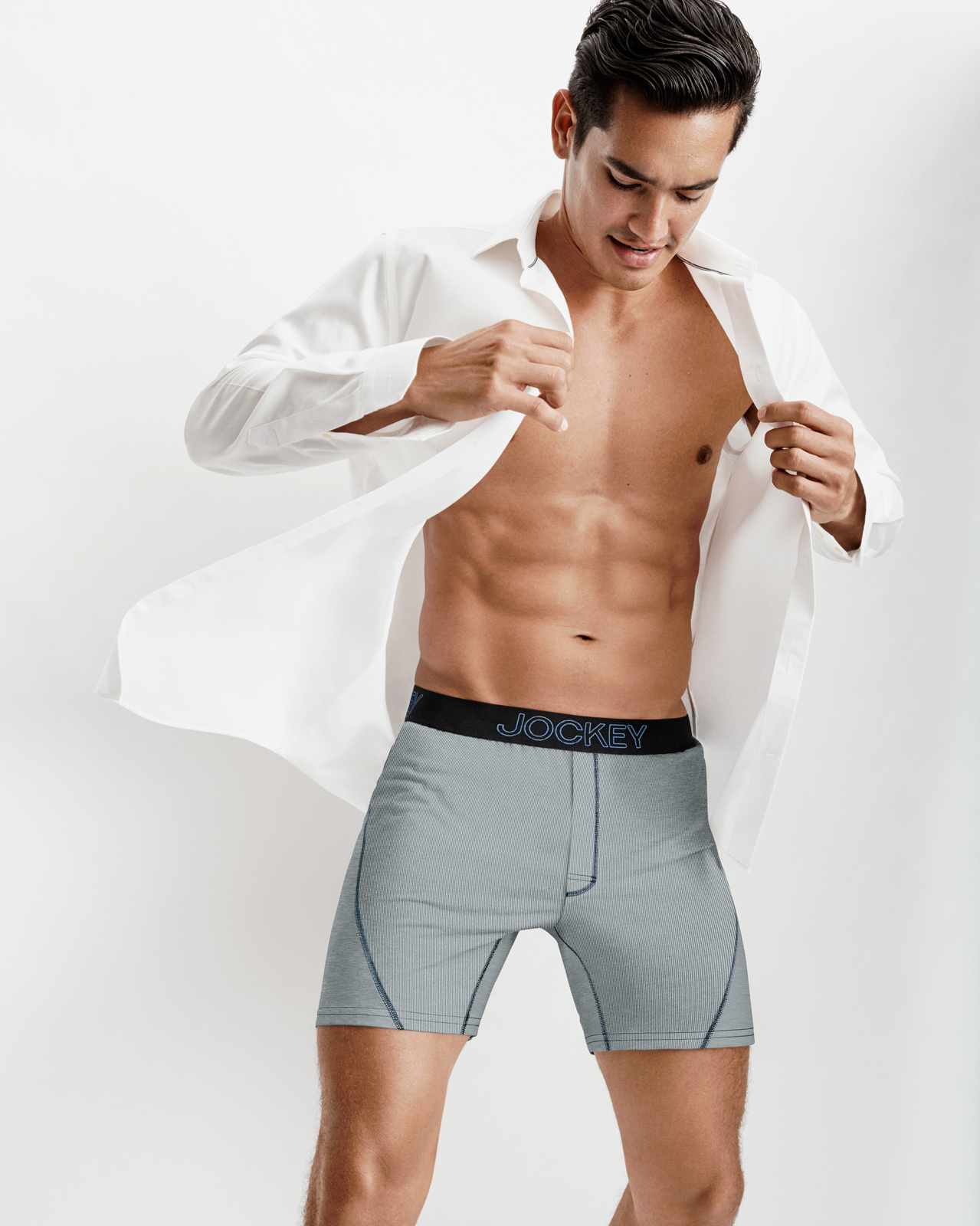 A Modern Update That Fuses Traditional Boxer Shorts With Boxer Briefs
Kenosha, Wis. (June 15, 2018) – – Jockey International, Inc. (Jockey), a 142-year-old brand recognized around the world for its premium underwear and apparel, is launching an innovative new solution in men's underwear for summer 2018; the No Bunch Boxer™ collection. Constructed with dual-fabric stretch that stays where you want it, No Bunch Boxer is a fresh new take on the traditional boxer, specially engineered to provide no bulk, no chafe, no ride up.
This bunch-free design provides a tailored fit and features the best elements of both a boxer and boxer brief combined. The tapered leg design and ergonomic seams deliver a streamlined, bulk-free fit and chafe-free comfort under pants, while strategic zoning of two unique stretch fabrics allow for maximum comfort and 360° of movement. Finished off with wicking and odor-fighting technology, the No Bunch Boxer keeps you feeling fresh and clean all day.
"The boxer is an iconic style, but with the rise of fitted pants it has become a bit problematic for men. We completely re-engineered the fit and shape with the No Bunch Boxer to remove the bulk and execute a design that is not too tight, not too loose and can fit under the tightest jeans without bunching at the legs or ballooning out of pants," says Laetitia Lecigne, Jockey Creative Director.
"The No Bunch Boxer represents a new dressing solution that goes with anything and transitions seamlessly from the office to a night out or a day on the town. Perfect for different wearing occasions," said Sean Radford, director of men's design.
The collection will launch via a blogger campaign with dedicated content and posts from YouTube and Instagram influencers surrounding Father's Day. The perfect pair for dads, grads and modern men alike, participants will include Ben Higgins (@higgins.ben), Alex Costa (@alexcosta), Cody Andrew (@codywestonandrew), Moti Ankari (@MotiAnkari) and Ryan Clark (@ryanstylesnyc), as well as Ali Fedotowsky-Manno (@alifedotowsky), Cara Loren (@caraloren) and Jessi Malay (@jessimalay) with their husbands. In addition, the launch will be supported with an integrated media program with media partner, Thrillist.
Available in a variety of colors and prints including hues of solid blues, reds and greys, classic checker pattern and subtle natural prints, the Jockey® No Bunch Boxer™ collection is available in sizes S – XXL. Find the No Bunch Boxer on Jockey.com, as well as in-store and online at retailers such as Macy's and Kohl's.
-1876-
About Jockey:
Founded in 1876 Jockey International, Inc. is a privately held company with headquarters in Kenosha, Wis. Today, Jockey® apparel products are sold in major department and specialty stores in more than 145 countries around the world. Jockey is committed to quality, comfort, fashion and innovation. As Jockey grows, the simple commitment to serve our consumers' needs continues to be our company's hallmark. Need more Jockey® products in your life? Shop us at Jockey.com, call or text us at 1-800-JOCKEY-1 and follow us on Facebook, Twitter, Pinterest, Instagram and YouTube.
Press Contact:
Rogers & Cowan
Lauren Weissman
212.878.5109 | [email protected]