OUR COMPANY : Newsroom
Retro Stripe Collection
Jockey® Launches Nostalgia Inspired Retro Stripe Collection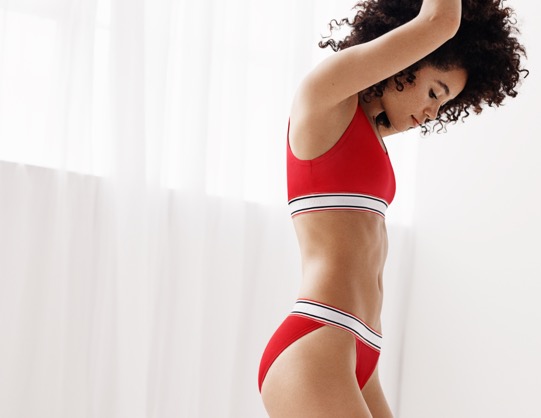 Makes Original '80s Women's Collection Cool Again with Retro Styles in Modern Cuts
KENOSHA, Wis. (February 22, 2018) – Iconic underwear and apparel brand Jockey is launching a fresh, new heritage collection, Retro Stripe, for spring 2018. Drawing inspiration from one of the brand's very first women's line, Jockey® For Her, which launched in 1982, this super soft, cotton stretch collection is bringing vintage styling and Jockey history to the contemporary woman.
Designers have perfectly paired flirty cut string bikinis, hipsters, hi cut and thongs with a tank bralette styled in nostalgic '80s fashion. The various silhouettes feature signature retro stripes on a flexible satin monochromatic Jockey® branded waistband that will never dig, pinch, roll or collapse, offering the ultimate mix of comfort and fashion.
"To develop the collection, we tapped into our men's team, who have an extensive history with cotton, and reengineered the fabric weight and stretch against the desired designs," said Jockey Creative Director Laetitia Lecigne. "The result was a super soft fabric that's just the right weight—not too thin, not too heavy—for comfort with a hint of stretch for a stay-put fit that moves with you.
The collection will launch through a blogger campaign with dedicated posts from fashion influencers Arielle Nachmani (@SomethingNavy), Jamie Chung (@jamiejchung), Christine Andrew (@HelloFashionBlog), Cara Loren (@caraloren), Jessi Malay (@jessimalay), Genevieve Padalecki (@nowandgen) and Tess Christine (@tesschristinexo). In addition, the launch will be supported with a robust integrated media program with PopSugar and a product-featured partnership with influencer marketing company BabbleBoxx.
Available in a variety of colors including white, red, navy, grey and light blue, the fresh styles are ideal to mix and match to create the look you want. The Jockey Retro Stripe collection will retail for $24 (bralette) and $11.50/3 for $30 (bottoms) at Jockey.com.
-1876-
About Jockey:
Founded in 1876 Jockey International, Inc. is a privately held company with headquarters in Kenosha, Wis. Today, Jockey apparel products are sold in more than 145 countries around the world. Jockey is committed to quality, comfort, fashion and innovation. As Jockey grows, the simple commitment to serve our consumers' needs continues to be our company's hallmark. Need more Jockey in your life? Shop us at Jockey.com, call or text us at 1-800-JOCKEY-1 and follow us on Facebook, Twitter, Pinterest, Instagram and YouTube.
Press Contact:
Rogers & Cowan
Lauren Weissman | Amanda Mondre
212.878.5109 | 310.854.8129
[email protected] | [email protected]