OUR COMPANY : Newsroom
Show 'Em Heroes: Bubba and Angie Watson
Jockey introduces pro golfer Bubba Watson and wife Angie in new chapter of acclaimed #Showem campaign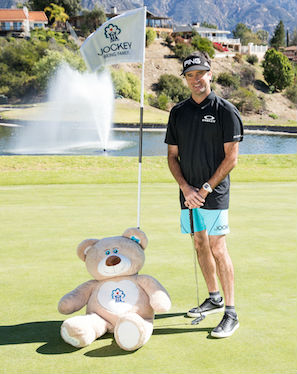 Bubba and Angie's unconditional love and commitment to family guides them through infertility and ultimately, adoption of two beautiful children.
Kenosha, Wis. [February 11, 2019] – Jockey International, Inc. (Jockey), a 143-year-old brand recognized around the world for its premium underwear and apparel, today announced the next chapter of its inspiring brand campaign "Show 'Em What's Underneath, Show 'Em Your Jockey." The latest heroes to be featured are professional golfer Bubba Watson and his wife, former WNBA player, Angie, who show the strength of family in building a life where love and commitment to each other comes first.
Known as one of the longest drivers in golf, Bubba is a two-time Masters® champion and 12-time winner on the PGA Tour. With two adopted children, Caleb and Dakota, Bubba and Angie consider family to be their greatest achievement. As Angie suffered from a medical condition that prevented her from having children naturally, the Watsons turned to adoption to grow their family. The adoption process was more difficult than expected but after being turned down three times, Bubba and Angie adopted their son, Caleb, just a week before Bubba won the Masters® tournament in 2012. Two years later, they welcomed a daughter, Dakota, into their family, also by adoption. After overcoming their challenges in building a family, they are sharing their ups and downs of their personal journey to encourage anyone who may be experiencing similar trials.
"Bubba and Angie were a natural choice for the #ShowEm campaign since their commitment to family is in perfect alignment with Jockey's core values," said Mark Fedyk, President and Chief Operating Officer at Jockey. "We're proud to be able to share Bubba and Angie's uplifting story to shed light on the importance of family."


The #ShowEm campaign introduces Bubba and Angie proudly wearing Jockey® product alongside Caleb and Dakota in a personal, intimate video illustrating what's underneath, both literally and figuratively. #ShowEm celebrates everyday heroes who embody the spirit and values of Jockey and the characteristics that make them unique, including purpose, faith, perseverance, courage, family, hope and resilience.
"It's amazing to have the opportunity to partner with a company like Jockey and use the #ShowEm campaign to inspire and provide support to other families that have thought about or have begun the adoption process," said Bubba Watson. "This experience has encouraged us to be open and honest about the obstacles that we've faced. On a lighter note, this has allowed me to fulfill a lifelong dream to become an underwear model."
Bubba Watson also serves as an ambassador for Jockey Being Family Foundation, Ltd. (JBF), Jockey International, Inc.'s corporate charitable initiative, which provides resources and support to post-adoption organizations to help strengthen adoptive families once an adoption is finalized.
Debra S. Waller, chairman and CEO of Jockey, was adopted as an infant and started JBF in 2005. Through her leadership JBF has impacted and helped strengthen more than 325,000 families.
Conceived by marketing partner Pure Growth Consulting, the "Show 'Em What's Underneath, Show 'Em Your Jockey" campaign will be supported with a robust digital and social media presence.
To date, the Jockey® brand campaign has shared the powerful stories of: Chris Van Etten, a U.S. Marine veteran who shows perseverance always wins; Lisa Cusimano, a firefighter who defines courage as serving something greater than yourself; Michael Cottone, an adoptive father who exemplifies the gift of family; Michaela DePrince, a war orphan turned ballerina who demonstrates that with hope, anything is possible; Remi Adeleke, a former Navy SEAL and actor who shows people that with resilience, you can accomplish anything, Victoria Arlen, a gold medalist and motivational speaker who shows the incredible power of keeping faith, and Zach Skow, who after hitting rock bottom, shows the power of purpose by giving rescue dogs a second chance at life.
To learn more about the #ShowEm campaign and Jockey, follow @Jockey on social media and participate in the conversation with #ShowEm.
– 1876 –
About Jockey:
Founded in 1876 Jockey International, Inc. is a privately held company with headquarters in Kenosha, Wis. Today, Jockey® apparel products are sold in major department and specialty stores in more than 145 countries around the world. Jockey is committed to quality, comfort, fashion and innovation. As Jockey grows, the simple commitment to serve our consumers' needs continues to be our company's hallmark. Need more Jockey® products in your life? Shop us at Jockey.com, call or text us at 1-800-JOCKEY-1 and follow us on Facebook, Twitter, Pinterest, Instagram and YouTube.
Press Contact:
Jackie Crystal / Amy Pandya
Rogers & Cowan
O: 310-854-8157 / 310-967-3418
[email protected] / [email protected]