Driven by Performance and Innovation
LEARN MORE

Focused on performance and quality.

Driven to disrupt and innovate.

For two brands that began our journeys 145 years apart, these are the qualities that brought us together.

When you add "community-minded" to the list, it's clear to see why we at Jockey—a family- owned company synonymous with comfort and care since 1876—are pushing the limits of our comfort zone to partner with some of the world's fastest drivers at Trackhouse Racing, established 2022.

Marking the first partnership of its kind in our 147-year history, our Jockey family proudly joined forces with the Charlotte and Nashville-based Trackhouse Racing team. With rising-star drivers like Ross Chastain and Daniel Suárez, their winning team is already versed in lapping victory lane. Forcing the world to take notice as they change the racing game with a fresh, disruptive approach and next-generation fervor, they're deeply committed to excellence in their craft while staying connected to their families and true to their vision.

Like us, they're dedicated to making a positive impact on the world. From honoring our nation's veterans and supporting education, to helping kids, families, and farmers, giving back to the community is a big deal for Trackhouse. Together, we're excited to team up for joint initiatives benefitting kids and families in our communities.

According to founder and owner, Justin Marks, part of the Trackhouse mission is to represent brands with similar values, which is why it's been such 'an honor to partner with an iconic American staple like Jockey.'

"We are excited to become part of their history," says Marks, "as Jockey is becoming a part of ours."

Watching the Jockey car speed in excess of 120 mph is pretty cool for our family-owned company. (Seeing our logo race around at high speeds is typically reserved for the spin cycle.) But what really matters to us is how the Trackhouse team operates when they're off the track.
Ross Chastain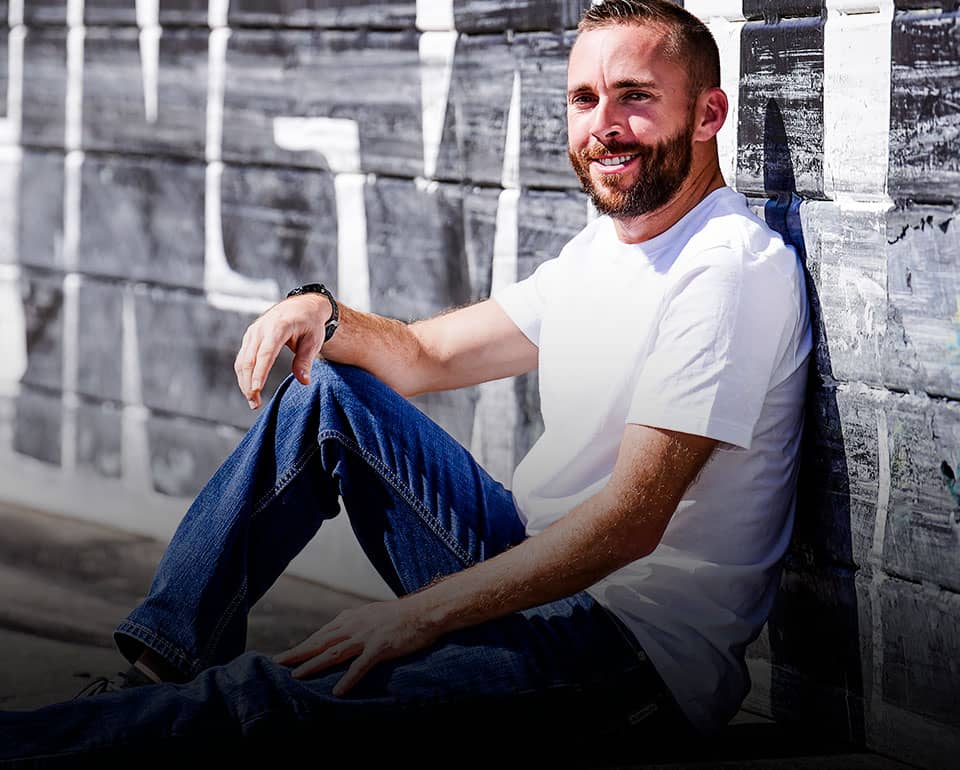 Daniel Suárez MEET ROSS

You can find him driving the #1 car for Trackhouse Racing and occasionally smashing watermelons to celebrate wins, but 30-year-old Ross Chastain will tell you that some of his all-time best moments were made on the farm with his dad.

A native of Alva, Florida, Chastain began competitive racing as a hobby, visiting a nearby track with his dad and brother to break up workdays in the watermelon fields.

"I just wanted to be like my dad," he recalls. "I wanted to plant watermelons like he did. And because he was interested in racing, I wanted to learn about that, too."

One of the sport's busiest drivers, Chastain has logged 200 starts in the top three national touring series over the last three seasons alone. In 2022, Chastain made history at Martinsville Speedway by riding the wall in a legendary (and now banned) move called 'the Hail Melon.'

Currently living in Mooresville, North Carolina, Chastain advocates for the community that shaped him by supporting causes that help other farmers. He even brands his race cars with the names of watermelon farmers.

"It helps me live in the moment and to be grateful for it all," he explains.
MEET DANIEL

Crossing the finish line to become the first Mexican-born driver to win a professional cup race—Daniel Suárez delivered a simple message to race fans: "Nunca te rindas en tus sueños." Never give up on your dreams.

Long before he sat behind the wheel of number 99, the Monterrey, Nuevo Leon, Mexico native grew his love for cars and racing in his father's classic car restoration shop and on the go-kart track. Moving to the U.S. alone at age 20 and barely able to speak English, Suárez dedicated his life to racing at all costs and despite all odds.

His superpower? His family.

"They are why I am here today — the sacrifices they made so I could do what I was born to do."

On being a role model—especially to young Hispanic race fans who lovingly call themselves "Daniel's Amigos"—Suárez admits it's a huge responsibility and one that he doesn't take lightly.

"Maybe they are living here now, or maybe like me they are imagining what it's like to live in America and chase a dream. I take that very seriously."

When he isn't racing, you can find Suárez cycling, restoring old cars near his home in Huntersville, North Carolina, and even voicing the character of the bright purple cartoon car, Danny Swervez.
EXPLORE MORE TRACKHOUSE FAVORITES